butt hinge butt hinge butt hinge butt hinge butt hinge butt hinges butt hinges butt hinges slip hinge slip hinges slip hinges slip hinges slip hinge slip hinge slip hinge hinge hinge hinge hinge hinges hinges hinges hinges hinges piano hinges piano hinges piano hinges piano hinges custom hinges custom hinges custom hinges custom hinges hinge mfg hinge mfg hinge mfg hinge mfg hinge manufacturer hinge manufacturer hinge manufacturer hinge manufacturer hinge manufacturer hinge manufacturing hinge manufacturing hinge manufacturing continuous hinges continuous hinges continuous hinges continuous hinges continuous hinges continuous hinges continuous hinges continuous hinges american made american made american made american made
HINGE TERMINOLOGY

GAUGE
The thickness of a hinge leaf.
LEAF
The portion of a hinge extending laterally from the knuckle and which usually revolves around a pin.
LEAF WIDTH
The dimension from the center of the pin to the outer edge of the leaf.
HINGE WIDTH
The overall dimension of the leaves measured perpendicular to, or across, the pin.
PIN
Rod running the length of the hinge. The pin holds the leaves of the hinge together.
KNUCKLE
The hollow circular part at the joint of a hinge through which a pin is passed. The knuckle is often called a loop, joint, node, or curl.
KNUCKLE LENGTH
The nominal or typical dimension of the knuckle measured parallel to the pin.
HINGE LENGTH
The length of the leaves measured parallel to the pin.
PITCH
The dimension from a point on the knuckle to the same point on an adjacent knuckle on the same leaf.
PAINT CLEARANCE
The minimum dimension between the outer face of the knuckle and the opposing edge of the cutout over the hinge's entire range of pivotal movement.
END PLAY
The amount of axial movement between the leaves.
HINGE STYLES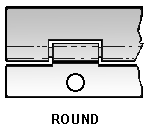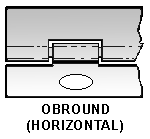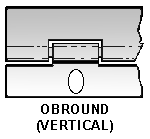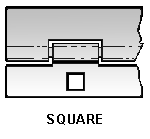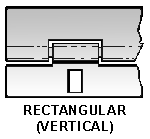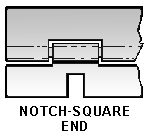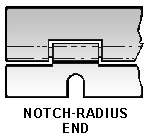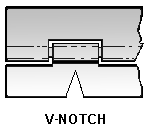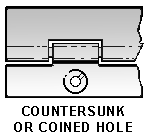 SPECIAL PIERCING AND SWAGING HINGES
PLAIN OR STANDARD ASSEMBLY
This is a surface-type hinge. The leaves lie flat in the same plane when in the open position. Unless otherwise indicated, this type of hinge will be furnished.





SWAGING
The forming of one or both leaves toward or beyond the center of the pin, swaging slightly increases leaf width.





BOTH LEAVES HALF-SWAGED
Both leaves are swaged approximately one-half the pin diameter with a minimum clearance between leaves when parallel.





ONE LEAF HALF-SWAGED
One leaf swaged one half the pin diameter.




ONE LEAF FULL-SWAGED
One leaf swaged equal to the pin diameter and both leaves parallel when in a closed position.





REVERSE SWAGED
One leaf swaged to simulate reverse assembly. Leaves will not close to a parallel position.





OFFSET
Forming one or both leaves away from the center of the pin. Offsetting slightly decreases leaf width.



NOTCHED LEAVES
Illustrated below are some of the more common designs.

BUTT HINGES
We can match your specific needs on butt hinges with either tight or loose pins, depending on your needs.

FORMED HINGES
Formed hinge leaves can be supplied in a variety of configerations. Dimensions should be taken from the pin center line and inside of forms. Several examples are shown below.

UNEQUAL LEAVES
Unequal leaves are available on all hinges. Widths are measured from the pin center line to the leaf's outer edge.

MULTIPLE PIN HINGES
Multiple pin hinges allow for double action, as required
STANDARD HINGE CHART